Service Blueprint Introduction
The Service Blueprint method offers many possibilities to better understand and design experiences of services. It is a useful tool for finding those ways and then improving them. This is done by visualizing the mapping of steps that take place in a service process and by taking into account the user experiences. This involves an inventory of all developments and factors that contribute to the customer experience and all internal contributors to external suppliers.
Service blueprints generally consist of five elements. Physical evidence, customer actions, frontstage (visible) employee actions, backstage (invisible) employee actions and support processes.
The service blueprint is used for various applications. Many teams draw up a service blueprint to transfer information and knowledge to team members and to clarify all developments and job roles. This allows teams to compare the services provided by the company with those of the competitor, but it also provides insight into how those services work today and how they should function in the future.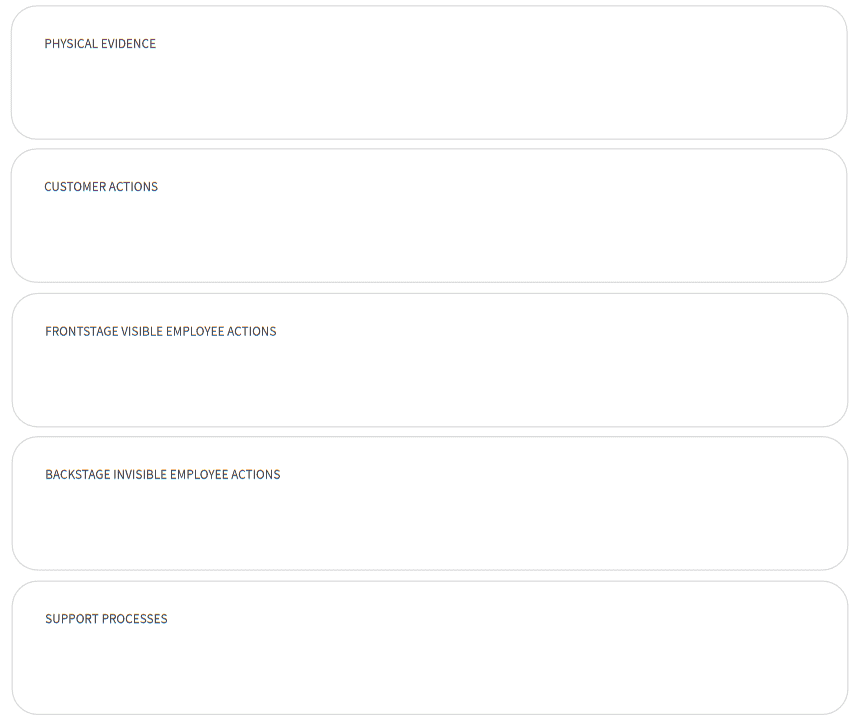 The service blueprint offers many advantages, it creates an overview of all steps to be taken, it is scalable and it provides insight into all necessary details and functions. This way things can be dealt with more easily.
The Service Blueprint was first introduced in 1984 by G. Lynn Shostack.
Use the service blueprint as a deepening of the customer journey map.
Executing the Method
Step 1: Start with the Template

Use the template to run through the service blueprint. If the matrix is too small, draw the matrix digitally, on a flip chart or draw the matrix on a large sheet of paper.

Step 2: Customer Scenario

Start to create the service blueprint with a customer scenario. In order to gain as much customer information as possible and to obtain a realistic picture, it is smart to carry out various research methods among the target group. Think of interview methods, focus groups, observations and participations.

Step 3: Customer Experience

After creating a customer scenario, the customer experience can be mapped. This consists of all activities and actions that the customer will undertake. Make sure these steps are written out chronologically.

Step 4: Other Factors

To gain full insight into the story, the map must be expanded. Make an overview of all developments and factors that are part of it. Add all other information about the five elements of the service blueprint (see "five elements") to the map.

Step 5: Mapping Interactions

To see how processes and interactions proceed and which roles and responsibilities play a role, interaction lines must be drawn. Specify all interactions, for example between customer and service, customer and employee, partners and employees, etc. Distinguish between the customer, employees and third parties. Therefore, use a different color for the line for each type of interaction and flow. Arrows can be added to illustrate the relationships. When an interaction goes one direction, use is made of one arrow, with two arrows roles are dependent on each other.

Step 6: Overview

In this way, an overview is created in the relationships, relationships and flows of all parties from a service. Use this overview to see where things could be improved.
The Five Elements
Physical evidence: The physical environments and materials such as shops, websites, customer receipts or e-mails.
Customer actions: All activities that users undertake such as visiting the website, placing orders and customer service.
Frontstage visible: Employee actions, concerns all visible activities of the employees such as sending confirmation emails and answering questions.
Backstage invisible employee actions: All activities that are not immediately visible that employees undertake, such as writing content for the website.
Support processes: Concerns all major partners such as third-party systems, major suppliers, receiving software and supplies.
Links & Resources